4/20/19
Channel 5 news in DC did a segment on Dylan's diss of people taking photos during his performance. Filled with cheesy jokes and shameful negation of an extreme talent.
4/13/19
New Yorker review of the film Stockholm, by Anthony Lane
"We learn, as the movie begins, that it is "based on an absurd but true story," and Budreau keeps the bones of that story intact, although he fools around with the flesh—reducing the number of hostages, and stuffing the film with as much Bob Dylan as possible. At one point, a policeman enters the bank and gets shot in the hand by Kaj, who sits him down and orders him to sing along to Dylan's "Tonight I'll Be Staying Here with You" on the radio. "What kind of cop doesn't like Dylan? What kind of person doesn't like Dylan?" Kaj asks. In real life, although a cop was indeed compelled to sing, he was allowed to pick his own tune. He chose Elvis's "Lonesome Cowboy." Talk about absurd."
11/22/18
Bob on Jimmy Fallon hawking his whiskey at Lincoln Center during The Big Apple Circus!
11/8/18
Charleston Conference of acquisition librarians. Presentation on electronic rights management. Uses image of Bob's new Blood on the Tracks Bootleg.
Thursday, November 8 • 3:40pm – 4:20pm
11/7/18
Western Governors University from Utah commercial seen in South Carolina. Cover of  Dylan's The Times They Are A-Changin'.
11/5/18
Dirty Blvd: The Life and Music of Lou Reed, by Aiden Levy. Quotes about Dylan, about six mentions.
11/2/18
Common Thread podcast from BU interview with Christopher Ricks about his book, Dylan's Visions of Sin.
11/1/18
NPR Fresh Air interview with Anthony DeCurtis on his book, Lou Reed: A Life. In the opening segment Terry Gross says, De Curtis says, "Other than Bob Dylan, the Beatles and James Brown, no one has exerted as great an influence on popular music as Reed has."
10/24/18
Watch What Happens Live with Andy Cohen interview with Juliette Lewis. She describes her fan struck experience with Dylan in an elevator. What happened when Bob Dylan recognized her in an elevator in NYC? She said "You're Bob Dylan" and he said, "You're Juliette Lewis." "He knew my name and when I got out of the elevator I cried." ~19min in.
10/5/18
WTF podcast with Marc Maron interview with Sissy Spacek.
Marc discussing Levon Helm in Coal Miner's Daughter. Great guitarist and first role in film. Marc was just listening to Planet Waves. What a great band, what a great album.
See previous post.
     9/12/18

WTF podcast with Marc Maron. Discussing his buying habits. He has five copies of Bob Dylan's Planet Waves. "Why? I don't know. 'Cause I like the record. You only need one, but I got back ups."
10/4/18
Waking Up Podcast with Sam Harris. Interview with Bill Maher and Larry Charles.
In the beginning of the interview Larry Charles mentions he met Bob Dylan. And went on to direct Masked and Anonymous.
9/27/18
The Daily Show with Trevor Noah interview with M.I.A.
"M.I.A. talked about Bob Dylan and about her whole idea that pop music can be a force for cultural change. She also talked about the idea of reconciling the versions of her that grew up in Sri Lanka and in the UK, as well as the pop-star version of herself. "
Talking about her music as conflict. Listening to Bob Dylan in her documentary and how music can be political. Will be going to see Matangi/Maya/MIA, Oct. 5, 2018. Just back from viewing. Mozambique plays in the background in 2001 when M.I.A. goes to Sri Lanka to film her family's reaction to the war.
9/21/18
The Tonight Show with Jimmy Fallon interview with Kevin Hart about Jerry Seinfeld.
Jimmy says to Kevin that his impression of Jerry is more like Bob Dylan.
9/20/18
The Tonight Show with Jimmy Fallon interview with Lenny Kravitz. Kravitz lets Jimmy play his Bob Dylan harmonica!
9/19/18
Bringing It All Back Home to Washington Square Sept 29, 2018 – "a live concert in the shadow of the Arch in celebration of the legendary and influential music heritage of Greenwich Village."
9/18/18
RRStar movie review, Life Itself.
"The film is already hilarious and emotional wrenching even before Chapter Two, about 8-year-old Dylan (Kya Kruse), sets out on a twisty-turny road that looks at the close relationship between her and her loving grandfather Irwin (Mandy Patinkin). The young girl's first name figures prominently in the story as does the music of late-'90s Bob Dylan. And aspects of Chapter Two have direct correlations to Chapter One."
9/13/18
NYTimes write up about Girl From the North Country play at Public Theater.
Plunder my song Book, Bob Dylan said. So I did posted 9.11.18
9/12/18
WTF podcast with Marc Maron. Discussing his buying habits. He has five copies of Bob Dylan's Planet Waves. "Why? I don't know. 'Cause I like the record. You only need one, but I got back ups."
9/9/18
Everyone Knows…Elizabeth Murray. American Masters on PBS
Plays Dylan's Subterranean Homesick Blues while discussing Murray's move to NYC in the 60s.
https://player.pbs.org/viralplayer/3015557475/
8/29/18
The Love You Make: An Insider's Story of the Beatles, by Peter Brown ad Steven Gaines. (1983) Made famous the quote:
"On August 28 (1964) a small but auspicious event occurred at the Delmonico Hotel in New York that would grow to affect the consciousness of the world: Bob Dylan turned the Beatles on to marijuana for the first them in their lives." p. 148
Freaky that I would find this book in my work library on Aug 29, 54 years later!
8/10/18
Washington Post opinion piece by Andre Leon Talley, "The historic blackness of Tyler Mitchell and Beyoncé's Vogue cover" writing "When I saw Beyoncé on the cover of Vogue's September issue, a different excellent black woman came to mind. "The times, they are a-changin'," Nina Simone sang in 1969. The song was written by Bob Dylan, but no one sang it so well as Simone." Ending with "We have delivered ourselves into a new era, too, for the times, they are a-changin'."
8/9/18
Political Beats 3-part podcast analysis of all Bob Dylan albums.
8/8/18
Z Nation Season 3, Episode 8, Election Day
Doc "somebody needs to tell Miss Kaya to play some Jimmy Hendrix or Bob Dylan or Hank Williams, Jr." about 3min in.
7/6/18
WTF podcast with Marc Maron interview with Andy Kindler and J. Elvis Weinstein
J. Elvis's grandmother and Dylan's mother were friends in Minneapolis. Was at his Bar Mitzva and his Dad was a pledge brother and tutor to Dylan at College in Freshman Comp.
7/1/18
The Walking Dead Season 7, Episode 2, The Kingdom; plays Georgia State University Choir cover of Dylan's Don't Think Twice It's Alright.
6/25/18
6/24/18
Deadwood Season 2 Episode 1; plays It's Not Dark Yet during ending credits.
6/22/18
Library Journal, DVD review of Gotta Serve Somebody: the Gospel Songs of Bob Dylan Documentary.
Don't totally agree with the last statement that this won't win over Dylan fans who deride this period! We love Dylan no matter and this documentary adds insights into how others perceive these songs as spiritual and connected to the universe!
Watched on AmazonPrime
6/21/18
6/15/18
CinemaSins YouTube video. Everything Wrong with…Coco
2:09 "Ha ha ha ha. That he or anyone, including Jesus and Bob Dylan, could ever properly tune a busted-ass house made beater guitar like that."
6/11/18
SummerStage Concert NYC, Aug 12
Hosted by Richard Barone: Music + Revolution: Greenwich Village in the 1960s. From his album Sorrows and Promises. Does a cover of Dylan's I'll Keep it With Mine.
6/5/18
Girl from the North Country production to premier at the Public Theater in NYC Sept. 11, 2018.
6/4/18
Gordon Lightfoot playing at Paramount Theater, Aug 12, upstate NY. Includes a quote from Dylan.
6/1/18
Washington Post YouTube interview with Seth Meyers. He has a pic of Dylan on his office wall.
5/9/18
""Bob Dylan refused to go back onstage unless I came to see him immediately," Françoise Hardy recalled in a recent interview. On the evening of May 24, 1966, Mr. Dylan's 25th birthday, he was playing his first concert in Paris and wanted nothing more than to see the then 22-year-old French singer, whom he had dedicated a song to but never met. "I went and he agreed to go back on stage," she said."
See also: https://www.facebook.com/photo.php?fbid=2200182120270103&set=gm.10156498062377978&type=3 (Nice photo of them in 1966).
5/6/18
5/5/18
Vanity Fair article about Getty kidnapping in 1973. In print article there is a picture of Dylan with among others Robert DeNiro, Sally Kirkland, Ronee Blakley and Gisela Getty at the Roxy in Hollywood, 1976. Similar to the pic below.
5/4/18
Song to Song 2017 movie with Patti Smith. Dylan's Rollin' and Tumblin' plays in first half hour.
5/1/18
Le Conversazioni: An Evening with Patti Smith at the New York Historical Society
Patti discussed the Nobel Prize event. They had asked her to do this before she even knew Dylan won the prize. She was going to sing her own song but changed to a Hard Rain is Gonna Fall when she heard Dylan would win. She also mentioned that Dylan was a shy guy and it would have been difficult for him to adhere to the social pressure of the Nobel committee. The King and Queen were there with other Nobel laureates and the Prize was there. She just froze, it was more than that she couldn't remember the words, she wanted to run away. She had all these emotions swirling up and just stopped. Everyone was encouraging her to continue. They all seemed happy about the error and to see someone like her…it was a real human moment. Learned to be human and honest and not perfect!
4/24/18
Here's The Thing podcast with Alec Baldwin interview with David Crosby
Crosby: Roger McGuinn was good at taking Bob Dylan songs and turning them into pop records. The Byrds covered Tambourine Man. ~13 min.
Buffalo Springfield/Byrds broke up because they wanted to do Dylan songs. Crosby stole Graham Nash from them because they didn't understand his songs.
Alec: Who'd you like to work with?
Crosby: Joni Mitchell is best singer/songwriter. She's a better musician than Bob. Bob could write. One time, Bob sings him this song one way and then a completely different way the next day. He's a piece of work.
Alec: who's a good singer?
Crosby: Morrison was a poser. Jimi, Joanie, Joplin, Dylan!
4/23/18
Dylan Birthday Tributes
Apr 20
https://outpost.ticketleap.com/bob-dylan-bash-2018/dates/Apr-20-2018_at_0800PM
Apr 27
http://cafewha.com/event.cfm?id=275353
Apr 28
http://sanfrancisco.carpediem.cd/events/6191973-an-evening-with-shakey-zimmerman-travel-through-the-decades-with-songs-of-bob-dylan-and-neil-young-at-ivy-room-at-ivy-room/
May 19-27
http://www.bobdylanway.com/dylan-fest.php
https://pioneerproductions.blogspot.com/2018/04/duluth-dylan-fest-2018-official-schedule.html?m=1
May 20
May 24
https://www.ticketweb.com/event/the-the-band-band-bob-daryls-house-tickets/7662265?pl=daryl
https://market.wvwinery.com/collections/festivals
http://www.countbasietheatre.org/events/bobfest/
http://www.jvsrestaurant.com/index.php
May 28th
https://www.ticketfly.com/event/1477312-9th-annual-bob-dylan-birthday-woodstock/
Jun 2
http://emelin.org/willie-nile/
Jun 11
https://citywinery.com/newyork/positively-bob-dylan-benefit-for-theatre-within-6-11.html
Aug  25
4/20/18
Dweezil Zappa at Tarrytown Music Hall.
He always plays Flakes and I love it.
4/15/18
Bowie: The Man Who Changed the World. Netflix Documentary.
Contains footage of interviews. In one interview, Bowie mentions he has 10 songs to choose from but Dylan has like a hundred!
3/30/18
David Bowie Is…exhibit at Brooklyn Museum of Art.
2/22/18
WTF podcast with Marc Maron interview with Duncan Jones.
Marc discusses the ubiquitousness of Dylan with Bowie's son. Talks about his interview with Jakob not wanting to talk about Bob. Dylan's character in Sam Peckinpah's Pat Garrett movie. Being the sons of famous people!
2/19/18
Grammy Museum, Cleveland, MS
Lots of Dylan references. They even have one of his guitars!
Delta Blues Museum, Clarksdale, MS
James "Son" Thomas song — Highway 61 Blues
John Lee Hooker album — Don't Look Back
Love and Theft: Blackface Minstrelsy and the American Working Class, by Eric Lott published 1993.
Similar to Dylan's album title of the same name released in 2001. Pays tribute to Charley Patton and Mississippi.
2/16/18
The Ground Beneath Her Feet, by Salman Rushdie
Dylan references throughout the book. See Dr. Rollason's blog.
2/9/18
Here's The Thing podcast with Alec Baldwin interview with Jann Wenner.
Founded Rolling Stone; living in San Francisco. 1967…Mick Jagger, Lennon, Dylan was doing Highway 61..Publishing stuff people wanted to know about; cultural issues. 1st Anniversary issue of Yoko and John's nude photo. Trial and Error. An after thought, we were isolated. SNL and Rolling Stone a block away from each other….Heriojacks. Beatles, Stones, Dylan all on the stage. hasn't happened since, then you have what you listen to from 18-22 is the music you will always love and listen to, and the evolution of music itself. 1972 sent Hunter Thompson out. He was a crazy person but responsible and thoughtful. Then, singing Dylan songs with Mick Jagger around the campfire. 20min.
Bob is another case, Bob I consider a friend and colleague. We've been friends for years. Bob, came out to Idaho/Iowa, spent the day at his house playing guitar with his son. His job was to present Bob to their audience. Whether they liked his work or not, Self Portrait, not. Considers Dylan, the most important writer of our times. Talented song writer. Always to be presenting Bob to our Audience. He's done 14 major interviews with them. Without Bob Dylan nothing. There's no Rolling Stone or Rock and Roll, nothing. 25min.
2/2/18
WTF Podcast with Marc Maron interview with Ezra Furman
Bob Dylan took him by surprise, around 15. Maron: Lots of Dylan in Furman's early stuff? Furman: Some of us are born with the nasal sound. I'm a writer. Maron: you definitely write the shit out of songs…take on big themes….very Dylanesque; turns of phrase and long narratives, and then you filter in this bee-bop stuff or Buddy Holly rock. ~42min.
First Dylan experience:
He got a guitar and was going to learn songs that his parents liked and got a book of Bob Dylan chords. I went to the first song Absolutely Sweet Marie.  And then Blonde and Blonde became his thing. That's what started him wanting to be a writer. Visions of Johanna it's all in here. Dylan's a special guy. he built this world where he could do anything. On Blonde on Blonde He's moved all the a parameters and broke down all the fences and now he's got this playground to make this giant record on. Taking that Dylan song book and changing the words and messing with the chords, there I wrote a song. No one writes songs like him. Dylan is an amazing singer, he's got control, he's got an unusual voice. ~47min.
1/28/18
The Electric Kool-Aid Acid Test by Tom Wolfe.
Tom Wolfe describing hanging out with Kesey and the psychedelic trip:
"From out the black hole of the garage comes the sound of a record by Bob Dylan with his raunchy harmonica and Ernest Tubb voice raunching and rheuming in the old jacket-legged chants—" p.12
"Bob Dylan's voice is raunching and rheuming and people are moving around, and babies are crying." p.13
"And Dylan raunched and rheumed away in the sphenoids or some damned place–" p.139
Hells' Angels arrival and "Dylan's voice is raunching and rheuming in the old jack-legged chants in huge volume from out the speakers up in the redwood tops up on the dirt cliff across the highway—He-e-e-ey Mis-ter Tam-bou-rine Man—as part of Sandy Lehmann-Haupt's Non-Station KLSD program…and winding up, and the locomotive sound got louder and louder until you couldn't hear yourself talk any more or Bob Dylan rheumy and–thraaaaaaagggghhh–here they come around the lest curve, the Hell's Angels, with the bikes, the beards, the long hair;" p.171
Pranksters paint up the bus for the anti-war rally.  "Bob Dylan and the Beatles and Joan Baez and Roland Kirk and Mississippi John Hunt were droning and clattering over the big speakers from over the way atop the dirt cliff. Then Allen Ginsberg turned up from Big Sur, with his companion Peter Orlovsky and an entourage of pale Chester A. Arthur High School hindus." p.218
1/27/18
WTF podcast with Marc Maron. Interview with Don Was. 51 min.
Don Was (Was Not Was) loved Dylan. Dylan was super important to him. Bob's my hero. "We were woefully unprepared for the album Under the Red Sky. Not one of his masterpieces. I went in thinking let's make Blonde on Blonde Part 2 that was the furthest thing from Bob's mind, repeating himself. He wanted to do something else." Dylan was telling him something to do, I was telling him how it wasn't going to work, I waited all my life to work with him but I didn't listen. It was a good lesson. It was the beginnings of rootsy american music based in blues…Maron chimes in: "the weird ghost troubardor time traveller of Americana music." "He was trying to get there, but I wasn't helping him to get there. We just did something fairly recently that I can't talk about. I Follow his tours on YouTube. He's a great singer you have to really listen he's inhabiting every word of those songs with a beginner's mind fresh mind every night. And they ring true. He's a deep guy and He's really a great singer." Maron again: "He was doing something up there out of spite or exhaustion. I don't know what song is that." "I love the Sinatra records. He's found a really totally original way to inhabit those songs and be himself, it's brilliant, man."  Maron about why Dylan tours: it's like a performance piece it's interesting and timeless." Was loved desert storm and this tour he's on now. "He's delivering a hundred percent every night."
1/25/18
The Ringer article on the 20th anniversary of the "Soy Bomb" at the 1998 Grammy's.
1/19/18
New York Public Library Remembering the 60s event.
Dylan influences:
This slideshow requires JavaScript.
1/6/18
Greenwich Village: Music That Defined a Generation. 2012 documentary
Lots of Dylan footage from the 60s. Documents Dylan's influence early in the movie. Susan Sarandon reads passages from Suzy Rotolo's biography throughout the movie.
1/4/18
I Am Not Your Negro. Film of James Baldwin's perspective on race. Amazing. Dylan sings Only A Pawn In Their Game from Don't Look Back at min 38.
12/22/17
WTF podcast with Marc Maron interview with Neal Preston rock photog. Last 5 min. about Dylan.
Preston's new book, Exhilarated and Exhausted, discusses how Dylan called him a Leach and wrote a story about the pic in the book and why Dylan called him that.
12/18/17
The Voice finale Red Marlow sings Make you Feel My Love aired 12/18/17
12/11/17
The Simpsons Gone Boy Season 29 Episode 9 aired 12/10/17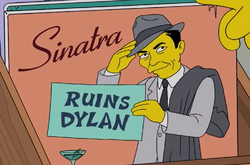 Bart in record shop searching records:  Sinatra ruins Dylan!
12/9/17
Ride with Norman Reedus Season 2, Episode 6 New York 35 min in.
Riding out to Bear Mountain talking about music's greatest mystery. Dylan's motorcycle accident! A new level of fame he disappeared to recover, or did he? There are no records of the accident.  Old Dylan song playing in the background. Honey, Come Home to Me? I can't find this song anywhere!
11/29/17
Modern Family Season 5, Episode 12 Under Pressure aired Jan 15, 2014
Manny on a double date with Luke. In middle of conversation says "If Bob Dylan was in it, he'd be voted out in the first round."
2/4/15
Madhouse on Castle Street. London TV show/Play with Dylan. 1962. IMDb.
Who Is Harry Kellerman and Why Is He Saying Those Terrible Things About Me? Herb Gardner movie with Dustin Hoffman playing a Dylan-esque character. 1971.
Canadian Bacon. Michael Moore movie with Alan Alda's character quoting Blowin' in the Wind lyrics as if they were his! 1995.
The Mighty Quinn. Carl Schenkel movie with Denzel Washington as a Caribbean Cop. 1989.
The One Thing by Gary Keller book mentions Dylan. 2013.
David Bowie song, I Have Not Been to Oxford Town. 1995.
Here's the Thing with Alec Baldwin. Podcast interview with Mickey Rourke saying Dylan told him on the set of "Masked and Anonymous" that his favorite movie was Harley Davidson and the Marlboro Man. 2016.
Here's The Thing with Alec Baldwin. Podcast interview with David Remnick. 2016.
Jimmy Fallon sings Drake's Hotline Bling as a 1975 Dylan. 2016Jerry Seinfeld Beacon Theater review, from Vulture, comments on Steve Martin appearance. 2016."Watching Steve Martin tell that joke was like if, in the middle of a modern-day Bob Dylan set of gurgles and growls, he brought out a time machine, turned the dial to 1965, and had young Bob Dylan come out to sing "It's All Over Now, Baby Blue."
Anchorman: The Legend of Ron Burgundy. Adam McKay movie. Narrator says: Bob Dylan wrote The Times They are a Changing. Ron never heard that song. 2004.
Super Bowl XLI. Prince Halftime Super Bowl show played: All Along the Watchtower. 2007.
2/21/16
WTF. Marc Maron podcast. Cindy Crawford mentions the first time she met Dylan at a party sitting in a chair.
Simpsons episode, Gal of Constant Sorrow. Dylan pops up from the trap door in the floor and says, "It's Pretty Dirty Down There."
5/25/16
Richard Farina: Lost genius who bridged the gap between beats and hippies, The Guardian.
Michael Kramer Folk Revival TimeLine 
Nerdist, Podcast interview with Iggy Pop who talks about doing the Great American Song Book
Catchfire. Dennis Hopper movie. Dylan cameo. 1990.
Jack & Amanda Palmer – You Got Me Singing CD
The Sympathizer by Viet Thanh Nguyen. 2015.
"…bearing the fingerprints of memory. I had no room for Elvis or Dylan, Faulkner or Twain, and while I could replace them my spirit was still heavy…"
Real Time with Bill Maher Overtime. Michael Moynihan says "I think they yelled Judas like the Bob Dylan concert." 2016.
Watch What Crappens — Stephanie Wilder-Taylor says "what is it Bob Dylan?"
Nerdist. Podcast interview with Chuck Lorre who says, "There was no hope of being Lennon, Dylan, or McCartney but I could be Gary Marshall."
Fresh off the Boat — Miracle on Dead Street. For Halloween kid wants to go as the Traveling Wilbury's Bob Dylan, Tom Petty…Actually dresses like Tom Petty and has 4 pics of the others attached to his shoulders.
WTF. Marc Maron podcast. Interview with Neil Young says "Gordon Lightfoot wrote a lot of great songs. Dylan thinks he's the very best ever."
The Walking Dead Season 1 Episode 6, TS-19; Ends with an early Dylan acoustic song from 1960s, Tomorrow is a Long Time Come.
Harper's Bazaar Interview with Kayne West and Kim K. Interview asks what's his favorite song of all time? "All Along the Watchtower. The Jimi Hendrix cover."
The Tonight Show with Jimmy Fallon. Miley Cyrus does Dylan's Baby I'm in the Mood For You.
WTF. Marc Maron podcast interview with Chris Garcia. He had a band Love Minus Zero in high school.
The Late Show with Stephen Colbert. Jokes about the Freewheelin' Donald Trump
WTF. Marc Maron podcast interview with John Prine. He met Dylan at Carly Simon's house with Kris Kristofferson. Maybe 1968, after "the accident." Dylan was given a copy of John's album before it was released!
Here's the Thing. Alec Baldwin podcast interview with Gordon Lightfoot. (see WTF interview with Neil Young)
10/27/2016
Life in Pieces. plays Dylan Shelter From the Storm at end of show.
10/28/2016
Watch What happens Live with David Crosby on Dylan's reluctance to accept awards!
11/15/16
The Tonight Show with Jimmy Fallon. Robbie Robertson on big pink days!
Charlie Rose Bon Jovi Interview on Bob Dylan's influence.
NYPL Live. Robbie Robertson and Steve Van Zandt.
Saturday Night Live with host Lin Manuel Miranda. Campfire singing Blowin' in the Wind.
WTF podcast with Marc Maron. Casey Affleck up for role in Inside Llewyn Davis.
Here's the Thing with Alec Baldwin podcast interview with Robbie Robertson.
Mercedes Benz commercial "Snow Date" features a cover of "Make You Feel My Love" by Sleeping At Last. Ad link.
WTF. Marc Maron podcast interview with Robbie Robertson.
Black-ish: God episode. During montage of slavery scenes plays old Dylan version of "Knockin' on Heaven's Door."
Future Shock. by Alvin Toffler. 1970
"Rather than idolizing an uncle, they idolize Bob Dylan or Donovan or whomever else the peer groups holds up for a life style model."
They ranged from Che Guevara to William Buckley, from Bob Dylan and Joan Baez to Robert Kennedy. "The American youth bag," wrote [John] Speicher, lapsing into hippie jargon, "is overcrowded with heroes."
Soundbreaking. PBS special on music history. Includes "the story of Bob Dylan's recording of Like a Rolling Stone."
WTF. Marc Maron podcast. Ryan Adams loved early Dylan and used one of his studio guitarists.
Gothamist. Article on the History of NYC Protest Songs.
Central Market. Murray's Cheese Tote, The Rinds They are A-Changin'.
WTF Podcast interview with Nora Jones…talking about how Dylan changes and after hearing a song for a few minutes you're like "what song was that?"…he's a performance artist.
You are Not a Gadget by Jaron Lanier.
"Would we have had a Mark Twain or a Bob Dylan if the Facebook dopplegangers of Samuel Clemens and Robert Zimmerman dogged them at every step?"
Literary Hub — Camille Paglia on Patti Smith's Horses photo.
"In Mapplethorpe's half-transvestite picture, she invokes her primary influences, from Charles Baudelaire and Frank Sinatra to Bob Dylan and Keith Richards, the tormented genius of the Rolling Stones who was her idol and mine."
Nowness — My Place: Jean-Charles de Castelbajac. Has Dylan Album, The Times They Are A-Changin' on his table. The album cover has Dylan with a gold beard!
Late Night with Seth Meyers — Scarlett Johansson on being in a Dylan music video…
Washington Post article on Second Story Books.
"The longtime owner of D.C.'s iconic Second Story Books has amassed a large collection of items such as Cary Grant's suitcase, original recordings of Bob Dylan, Civil War photos, Asian masks … and, yes, rare books."
NYMag…The Strategist. Linda Rodin has a pic of Dylan in her kitchen.
Nellie's Free Range Eggs — Hens are Friends. Commercial featuring Dylan's "All I Want to Do."
WBUR — On Point. Hearing the Poetry of Pop.
"Pop music is irresistible. That's what makes it popular. My guest today says it's also poetry. Not every time. Not every song. But the lyrics within the music work on us. Sometimes powerfully. Sometimes subtly. And often in a tradition of poetic rhythm that stretches from Beowulf to Biggie Smalls. From Cole Porter to Bob Dylan and Taylor Swift and Pharrell. This hour On Point, the poetry of pop music. — Tom Ashbrook"
WTF Podcast interview with Paul Schaffer…talking about Dylan's David Letterman performance. Maron going to the rehearsal and Paul saying Dylan played a million different songs. Paul played on Forever Young.
The Voice UK and US Dylan Covers.
http://www.digitalspy.com/tv/the-voice-uk/news/a823828/the-voice-uk-watch-mo-adeniran-beautiful-bob-dylan-cover/
http://www.nbc.com/the-voice/video/live-top-12-performances/3504887. 5.42  Make you Feel My Love, by Adele??
Fidelity High Podcast Ep 36 : John Doe on Music From Big Pink by The Band.
Late Night with Seth Meyers. Bob Dylan persuaded John Mellencamp to sell his paintings.
Here's the Thing Podcast with Alec Baldwin speaking with Carly Simon
Carly met with Dylan the day before his motorcycle accident in 1966, at the request of Albert Grossman. He was high on drugs and wrote a song for her to sing Baby Let Me Follow You Down. He kept telling her ya gotta go to Nashville.
Library of Congress Webcast. Dylan Goes Electric, by Elijah Wald
Dirty Dancing remake 2017. Don't Think Twice It's Alright cover
6/6/17
BuzzFeed 23 Things You Forgot You Used To Do 10 Years Ago. #22 Downloading a bunch of Starbucks "Song of the Day" songs on iTunes and never listening to them (but hey, they were free). Showing a picture of the Dylan Starbucks Jokerman Song of the Day card. I think I still have one or two.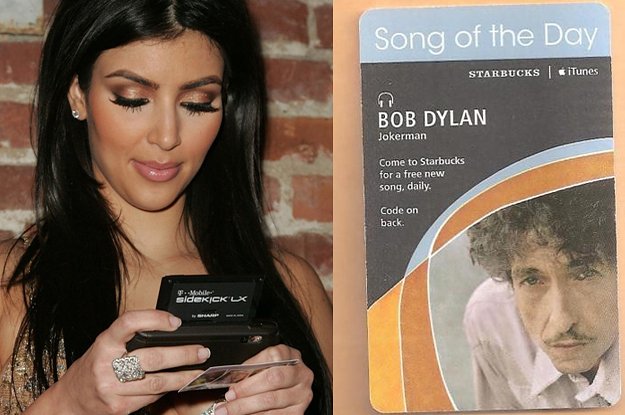 6/16/17
Jimmy Fallon Talks About Seeing Bob Dylan in Concert at Capitol Theater. I saw one of those shows!!

6/12/17
The Forward Podcast with Lance Armstrong. Avett Brothers played with Bob at the Grammy's. Lance: "Can you help me get Bob Dylan on the show?" The Avett Brothers were invited and got nominated…generational folk thing. Went to a party after. He's like Jesus Christ…he appeared…moved the stone apart and he came in. Dylan in the corner and walk towards him and within 5 feet and his bodyguard moves in front of me. He looked like a martial arts specialist, he looked like stop! Dylan saw us and stood up and talked for a moment. he says that was great we should do it again sometime. That was great. Got distracted within 30 seconds he ducked out. This man is at a party with the most famous people. he had to sneak out. He has to be alienating. He does whatever he needs to do. Lance, says he will never understand how he blew off the Nobel prize. They didn't know they were performing with him. Dylan was working on a painting so maybe he wasn't gonna show up. He's a baller! Bob Dylan is a baller.
6/14/17
The Journal News article on Dylan's Harlem apartment.
6/19/17
Thrive Global podcast with Glennon Doyle Melton. A caricature of Bob behind her couch.
The 42nd Parallel, by John Dos Passos, 1930
Mac: "So you're from Duluth, are you?" "Well, what's the big joke about Duluth?" "It's no joke, it's a misfortune." p. 48
Duluth; girderwork along the waterfront, and the shack-covered hills and the tall chimneys and the huddle of hunch-shouldered grain elevators under the smoke from the mills scrolled out dark against a huge salmon-colored sunset. p. 51
7/20/17
Fresh Air podcast interview with Billy Bragg. Heard about Woody through Dylan fans. When Nora Guthrie asked him to record Woody's songs he thought, "This is a job for Bob Dylan."
Huffington Post. Celebrity Child Models. Pablo Dylan.
7/21/17
The Tonight Show. Jimmy Fallon, Kyra Sedgwick, and Kevin Bacon. Sing a spoof on Blowin' in the Wind.
7/22/17
WTF podcast with Marc Maron interview with David Remnick. Heard Bob Dylan at 7. When Dylan mentions Ezra Pound and he went out and bought it without understanding it. Same with Ginsberg. Remnick went to Paris as a busker singing Dylan, Young, etc. Came back and interviewed Ginsberg.
Craig Ferguson show at Town Hall 7/22/17. New Deal Tour. Opening act. Peter, Porn and Mary, should do Blowin' in the Wind.
7/24/17
Politically Re-Active podcast with Kwame and Hari. Hold Up, Wait a Minute: Twitter Feuds & Threat Models
Interview uses one second of "Hurricane" by Dylan to bring the point home that it's nothing new that blacks have a history of being convicted of killing cops without evidence.
7/25/17
New Yorker Radio Hour podcast with Ariel Levy talking with Lucinda Williams. Williams says she started taking guitar lessons at 12, in 1965, after hearing Dylan's Highway 61 Revisited.
7/31/17
The Nerdist podcast with Chris Hardwick and Damon Lindelorf. Audience questions: Does Damon believe in heaven or purgatory seems to be a theme. Is there more? and Hardwick starts singing…Daddy's in the basement mixing up the…
8/3/17
Revisionist History podcast with Malcolm Gladwell. The King of Tears about country music evoking emotion and rock and roll lacking in emotion. Gladwell uses Rolling Stones 100 best songs. Bob's Like A Rolling Stone is number 1.
Mystic Chords: Mysticism and Psychology in Popular Music, by Manish Soni
"Rock and roll, and archetypal symbolism? Citing baby-boomer favorites including Bob Dylan, Bob Marley, the Beatles and other Rock greats, the author shows that they have drawn on the same primal source from which mythology, dreams, and poetic insight arise. Does today's music of the masses deserve a place in the pantheon of traditional art forms, next to classical music…" — From GoodReads.com
8/6/17
Ultimate Classic Rock magazine. Dylan and Gene Simmons collaboration.
"The track in question is probably "Waiting for the Morning Light," which appeared on Simmons's 2004 album, Asshole, but was recorded several years earlier. "Bob came up with the chords, most of them, and then I took it and wrote lyrics, melody, the rest of it," Simmons told Billboard in 2003.
Read More: Tommy Thayer Says Gene Simmons 'Was Like a Kid' Working With Bob Dylan | http://ultimateclassicrock.com/tommy-thayer-says-gene-simmons-was-like-a-kid-working-with-bob-dylan/?trackback=fbshare_top_flat_3&trackback=tsmclip
8/23/17
Pitchfork article on 200 of the best albums of the 1960s.
#55 Freewheelin' Bob Dylan, #38 Bringing it all Back Home, #14 Highway '61 Revisited, #6 Blonde on Blonde
8/26/17
WPKN interview with author Bruce Pollock, Bob Dylan FAQ. One Too Many Mornings was a turning point for Dylan. Start at about 1 hour in.
WTF Podcast with Marc Maron interview with Alice Cooper. Marc to Alice "You play Golf?" Alice, "Yeah, Dylan plays golf…" Last 5 min of cast.
8/30/17
The Sixth Borough, article in City Journal.
"Not long after Brackman arrived, his friend Rudy Wurlitzer followed. Wurlitzer, a novelist (The Drop Edge of Yonder, Nog) and scriptwriter (the cult classic Two Lane Blacktop, Bernardo Bertolucci's Little Buddha, Sam Peckinpah's Pat Garrett & Billy the Kid), had pals like Philip Glass, Bob Dylan (who played a part in Pat Garrett), Patti Smith, and other postmodern moderns. When friends visited, they spread the word about the interesting town."
WTF Podcast with Marc Maron. Interview with Steve Jordan. Chuck Berry was essential to Bob Dylan. The turn of the phrase. You Can't Catch Me and Too Much Monkey Business influenced Subterranean Homesick Blues and Leopard-Skin Pill-Box Hat. Eric Clapton turned Keith Richards onto guitarist Robert Cray. Jordan played with Dylan in the late 80s early 90s when he was searching. Dylan wanted him to put a band together for the record Down in the Groove. He put together a hot shot studio band that would follow Dylan around like a SWAT team. But Jordan figured this wasn't going to work out and left before tour. GE Smith then became the band!
9/4/17
Under the Skin podcast with Russell Brand interview with Bill Bragg talking about Punk, Folk, Hip Hop and socialism. Grime music, folk revival creative means reclaiming space voices that are not being heard, language that has not been written. Music is a universal social medium. Pop music the vanguard of that in the 1960s. Not just Bob Dylan type stuff but Marvin Gaye and the city stuff.
9/5/17
Hollywood Game Night "Keep It Unreal" Episode 510.  Musical Pillow Game…Dylan won Oscar, uses a stage name, didn't record a song when he was 12, it was Stevie Wonder.
9/7/17
HHHappy article on Patti Smith
"For Smith, before there was rock 'n' roll there was poetry and a intense love of literature. As she puts it, she got "sidetracked" by music, and wandered down a path through which she could fuse her love of Rimbaud and the Beats with her adoration for Bob Dylan, Keith Richards and Jim Morrison."
9/11/17
WTF podcast with Marc Maron. Interview with Ken Burns and Lynn Novick. Talking about the 60s best music ever, including Dylan in their documentary about Vietnam.
9/12/17
Book Forum review of Joni Mitchell biography, Reckless Daughter: A Portrait of Joni Mitchell, by David Yaffe.
"Even on her earliest, overly demure albums, she'd taken Bob Dylan's cue that pop songs could say anything (she often named "Positively Fourth Street" as her bat signal) and was using it to dismantle the pedestal she was placed on: The ingenue was gazing back and seeing through her watchers, keeping charts of power plays in a fine calligraphic hand. The girl all the pop songs were about was stepping up to tell them what they got wrong."
"In 1971, Blue (which includes "A Case of You," a song about Cohen, as it happens) kicked off a six- or seven-album streak that stands beside Stevie Wonder's of the same time or Dylan's mid-'60s run."
"While shelves buckle with Beatles and Dylan studies, and Young and Cohen have gotten solid book-length treatments, the few books on Mitchell have been limited, either too hagiographic or subsuming her under second-wave feminism or California lifestyle-ism."
"One problem for writers may be that unlike the work of Dylan or the Beatles, which was full of disguise and mystique and offered critics a surfeit to speculate about, Mitchell's art was staked on a radical honesty, no matter how enhanced by metaphor."
Twitter feed comment on Louis CK movie about Woody Allen.
9/13/17
NPR Tiny Desk performance
"And in the way Bob Dylan took his guitar and harmonica to accompany his rarely repeating ramblings, L.A Salami embraces a similar aesthetic, albeit as a black Englishman instead of a white Minnesotan."
9/16/17
Under the Skin podcast with Russell Brand interview with Brad Evans.
Russell introduces "Brad Evans the Dylan of emergent new consciousness."
9/17/17
Fresh Air podcast with Terry Gross interview with Bruce Springsteen.
Severe motorcycle accident in 1967.
"Terry Gross: And that's one of the things that really interests me in comparing you to Dylan. Because when you first started, people were comparing you to Dylan, one of the "new Dylans," and everything.
In some ways, persona-wise, you're the opposite. Because he's always — he changed his name. He surrounded himself in mystery. His lyrics are very obscure.
And your lyrics tell stories. You're all about a place. You reveal so much about yourself and the world around you in your songs. You know what I mean? I know that you're more than what you literally tell us about in the songs, but still, you have an identity and tried to tell us something of who you are in your songs.
Bruce: You just go where your psychology leads you, I think. You know, I've always loved the fact that Bob's been able to sustain his mystery over 50 or 60 years. In this day and age, that's quite a feat in itself and, you know, the things that I loved about Bob's music — and I describe him in the book as a father of my country, which he really is — were things that just didn't fit when I went to do my job, you know? I had come out of a somewhat different circumstance and the clothes just didn't fit."
"Vietnam was a sideshow in 1962, under the broader foreboding of the Cold War, when Bob Dylan wrote "A Hard Rain's A-Gonna Fall," his chilling prophecy at the start of this album and the film." See earlier post WTF podcast with Marc Maron.
9/18/17
WTF podcast with Marc Maron interview with Harry Dean Stanton from 2014.
Did you know Peckinpah? That's where I met Dylan, Bob Dylan, he was crazy too, Yeah but I love him. That was crazy times. Maron: What was the scene with Dylan? We were jogging in a scene in the background. Peckinpah said you fuckers walking through the shot. I was running out for Dylan to get him out of the shot. Maron: When you hang out with Dylan what's that conversation like? He's awesome, he wanted me to be in a movie he was directing with Joan Baez (Renaldo and Clara), We came back to LA and he asked me to record a song in Santa Monica. He was singing with the Band then. I was 2 hours late he was with the band but he was there waiting for me and we sang and made a tape but I didn't take a copy of the tape, I could kick myself. We sang a Mexican song…
9/19/17
See Billboard Harry Dean Stanton best singing moments, including with Dylan on Jewish Telethon.
"Thanks to the treasure trove that is YouTube, there is (somewhat fuzzy) footage of Bob Dylan performing alongside his son-in-law Peter Himmelman and Stanton at a 1989 Chabad telethon. The trio took on spirited versions of ​"Hava Nagila" and "Adelita," the latter on which Dylan appears to be playing the recorder while Stanton covers harmonica."
9/21/17
Speakeasy Warren Zanes interview with Robbie Robertson, Oct 2016.
9/21/17
Centerway Square in Corning, NY. Band playing Knocking' on Heaven's Door.
9/22/17
Here's the Thing podcast with Alec Baldwin. Interview with Burton Cummings.
Writing their own songs.
9/25/17
The Voice, S3 E1
Blind auditions 15 year old Destiny Hope singing Don't Think Twice it's Alright, badly! at about 54.13.
9/26/17
Consequence of Sound article via Twitter.
"For our latest Origins feature, Rob McVey and Sivert Høyem help explain the creation of "Goodbye 21st Century" by naming R.E.M., Sonic Youth, Bob Dylan, and more as influences."
"Rob McVey: I've often marvelled at the lyrics of this Dylan song, "The Times They are A-Changin'," managing to sweep up the atmosphere of a particular time whilst remaining on the periphery. I loved the way Dylan dismantles the established and critical so effortlessly, and it made me feel cool at the same time. I guess in our song I liked the way Sivert was just saying what he was seeing. "21st Century" was the first time I had felt comfortable addressing what was going on out there, just felt right and of the moment."
9/27/17
Brian Fanzo Tweet
More tweets
9/29/17
9/30/17
Beyond the Trope podcast episode 162 interview with Crystal Skillman.
Crystal: Don't remember who won the Pulitzer 2 years ago. Interviewer: Wasn't that Bob Dylan? Crystal: If you're Bob Dylan it's a little different cause you're embedded in the culture already.
Went to see Twyla Tharp dance at Joyce Theater. Dylan Love Songs. Excellent!
Reviews: NYTimes, Observer, Financial Times, Village Voice
The Golden House by Salman Rushdie, novel about McDougall Street family.
"They had excellent taste, excellent clothes, excellent English, and they were no more eccentric than, say, Bob Dylan, or any other sometime local resident." p. 12-13
"My parents didn't have the doomed heroism of properly Operatic-Realist leads; nor did our other neighbors. (Bob Dylan was long gone.)" p. 28
"I was the one who dug in this dirt for longest, seeing myself, almost, as a latter-day A.J. Weberman–Weberman the soi-disant Village "garbologer" of the 1970s, who rooted around in Bob Dylan's trash to discover the secret meanings of his lyrics and the details of his private life, and although I never went that far, I thought about it…" p. 36
"That night he (son Petya) talked and drank without stopping, and all of us who were there could carry fragments of that talk in our memories for the rest of our lives. What crazy, extraordinary talk it was! No limits to the subjects…;the hysterics of Bob Dylan (he recited the whole of "Sad-Eyed Lady of the Lowlands," as reverently as if it were a composition piece to "La Belle Dame sans Merci");
10/3/17
New Yorker article on Joni Mitchell
"She got another chance at camaraderie in 1975, when she joined Bob Dylan's cocaine-dusted Rolling Thunder Revue, partly to get to know "Bobby," who acted, she said, like a "perverse little brat," forgoing actual conversations for Delphic, leering remarks. Dylan's childishness is the subject of "Talk to Me," a song on "Don Juan's Reckless Daughter":
We could talk about Martha
We could talk about landscapes
I'm not above gossip
But I'll sit on a secret where honor is at stake!
Or we could talk about power
About Jesus and Hitler and Howard Hughes
Or Charlie Chaplin's movies
Or Bergman's Nordic blues
Please just talk to me
Any old theme you choose
Just come and talk to me
Mr. Mystery, talk to me."
"The musicians she respects the most, Dylan and Leonard Cohen, are both notoriously limited singers, a fact that Mitchell reports frequently, and with evident joy."
"Her inspirations, she said, were the crooners of the pre-rock era, and Dylan, who could string lyrics together without the promise, or the threat, of an impending tune. (Dylan's harmonica passages sometimes act as the only punctuation for his long musical sentences.)"
"The principle of delay works also with Mitchell's rhymes, which are often the off-the-rack, Tin Pan Alley pairings that Dylan would adopt and, in songs like "Desolation Row," deconstruct into prophetic nonsense. "
10/9/17
Big Bang Theory, S11 E3
Sheldon dreaming aspects of himself, Counsel of Sheldon's. Laid back Sheldon says "I'm just chillin' like Bob Dylan." Last 5 minutes of show.
WTF podcast with Marc Maron. Interview with Jeff Bridges. At about 1:00 hr.
Beau playing Chuck Berry and Little Richard. Jeff feels fortunate to have Dylan and the Beatles but Beau had Buddy Holly. Jeff turned Beau on to the Beatles and Dylan.
10/10/17
Shaky Ground: The '60s and Its Aftershocks
"San Francisco's 1965 transformation from the home of folk to the home of acid rock happened just as dramatically. Acid hit, Bob Dylan went electric at the Newport Folk Festival and British Rockers kept pushing the envelope…"
"Like everyone else, Bob Dylan was mesmerized by the Brits. By 1966 he was claiming folk had just been a "substitute" for rock….The English had changed all that, he said, by revitalizing rock music. Dylan had loved the Animals' 1964 rock version of "House of the Rising Sun…"
"American prosperity, acid, the British Invasion, and Dylan's plugging in were the catalysts that sparked the hippie revolution, and San Francisco was uniquely poised to respond to the shift." p. 24-27
Nerdist podcast with Chris Hardwick. Interview with Ron Perlman. At about 45 min
Chris: People need boundaries. Perlman discussing Marlon Brando: He was brilliant. When you're Marlon Brando, Marilyn Monroe, or Bob Dylan who, to the world are inhuman because they are in such a vaulted position…Who around them can they trust?…What is your process why can you do things that no one else can do…Why are you Bob Dylan?
10/12/17
WTF podcast with Marc Maron. Interview with Marilyn Manson. 15min. in.
Marilyn talking about his guitar, Excalibur. It's really heavy. It wrote great songs. The guitar is part of the process of writing songs. Marc says: Everything has a ritualistic, a status. Someone told him, Randy Newman's son, told him Bob Dylan gave Neil Young Hank Williams' guitar. That's important. That's gotta be a magic guitar.
10/16/17
The Voice, S13 E7
Team Miley Battle – Brooke Simpson vs. Sophia Bollman: "You're a Big Girl Now".
10/26/17
WTF podcast with Marc Maron interview with Willem DaFoe. 25 min in.
Dafoe says, He's the seventh son! Sister going off to college when he was six. Siblings went to University of Wisconsin and hung out there when he was a teenager. The early sixties were blowing up with creativity, questioning and protest. Made his start in avant-garde theater. Left high school early, in 1972-1973, wanted to find a new world. Went to Milwaukee. Wanted to be with smart, inspiring, cool people. Thinks about the Bob Dylan line, "Little boy lost; he takes himself so seriously; brags about his misery; loves to live dangerously." That's me (DaFoe)!
10/27/17
Jeopardy question, 7pm
"Joyce Carol Oates dedicated "Where Are You Going, Where Have You Been?" to Bob Dylan, and she has claimed that the story was influenced by Dylan's haunting song "It's All Over Now, Baby Blue."" from SparkNotes
10/30/17
The Voice 2017 Knockout – Dennis Drummond: "All Along the Watchtower"
11/1/17
University of Chicago Press, free monthly ebook.
He was one of the great blues guitarists and shaped the blues and folk revivals. Bob Dylan called him "one of the wizards of modern music." This influential, but underappreciated, musician is the subject of our 
free e-book
, 
Say No to the Devil: The Life and Musical Genius of Rev. Gary Davis
 by Ian Zack. Also see 
a list of the students 
of Rev. Gary Davis, with many links to his and their recordings.
"Bob Dylan, who rubbed elbows with Davis in Greenwich Village in the early sixties and recorded a number of his songs, considered him "one of the wizards of modern music." Intro. p.
11/2/17
WTF podcast with Marc Maron interview with John Hammond.
John was good friends will Dylan in 1961-62. He introduced The Band to him. Bob did talking blues, that guy could really grab you. John played coffee houses like the Fat Black Pussy Cat. Him, Dylan, Van Ronk, Ritchie Havens, Peter Cohen hung out at the Folklore Center. John moved to LA in 1962, ready to be someone else. Opened for the Staples Sisters, Mavis!!! John met Levon, Rich Emanuel, etc. in Canada and played with them. He introduced them to Dylan. Bob really respected where John came from. Bob broke the folk thing/scene by going electric!
11/3/17
Vulture article on Cate Blanchett roles in movies
"9. I'm Not There (2007)
Fine, it's just a Bob Dylan impression — but it's a really funny Bob Dylan impression. As one of the Dylan personas in Todd Haynes's unconventional biopic, Blanchett was handed a plum part: the singer-songwriter of the Don't Look Back era, a bratty, witty young man happy to conquer the planet while on tour in England. She's a total hoot in the role, channeling the artist's quicksilver wit, burnt-out weariness, and nervous patter. It's a perfect mimic, but there's also deep compassion in the performance. After all, Dylan is one of our greatest chameleons, shape-shifting from style to style over his long career, and so it figures that a master impressionist would understand that need to reinvent better than just about anyone."
Tweet from Playbill.
Sticky Fingers, by Joe Hagan
"Lennon. Dylan. Jagger. Belushi. Leibovitz. The story of Jann Wenner, Rolling Stone's founder, editor, and publisher, is an insider's trip through the backstages of storied concert venues, rock-star hotel rooms, and the political ups and downs of the latter half of the Twentieth Century, right up through the digital age: connecting the counterculture of Haight Ashbury to the "straight world."" Goodreads summary.
Wenner is not happy with it. The DailyBeast
11/20/17
Facebook post

UpRoxx blog. How To Make 'The Last Waltz' Part Of Your Annual Thanksgiving Celebration
"The guest list at this party is truly a mixed bag. There is a wise old man from Mississippi. There is a beautiful blonde poet from the Hollywood hills. There is a jive-talking hipster from New Orleans. There is a coked-up Canadian hippie. There is a portly, purple-suited Irishman who mistakenly believes that he knows karate. And then there's the Jewish rock star for Minnesota who can't decide if he really wants to be there."
VillageVoice article by Greil Marcus. Top 10 Real Life Rock
"2. Bob Dylan and Mavis Staples, Xcel Energy Center, St. Paul, Minnesota (October 25).
Overheard in Row 7: "Have you guys seen Bob Dylan before?" "No, but we never miss Mavis.""
"7. Joe Hagan, Sticky Fingers: The Life and Times of Jann Wenner and Rolling Stone Magazine(Knopf). That Hagan names as inspirations The Lives of John Lennon, Albert Goldman's attempt to destroy John Lennon, and Positively 4th Street, David Hadju's attempt to discredit Bob Dylan, means that his book is one more proof that a biography grounded in its author's contemptuous distaste for his or her subject is not a good idea. There's a huge amount of information here, but if what Hagan did with what I told him is remotely typical then it can't be trusted." See 11/3 post.
Quartzy blog. THE SIMPLE STATISTICAL ANALYSIS THAT EXPLAINS THE ENTIRE HISTORY OF POPULAR MUSIC
"Matthew Denny, a social network analysis researcher at Penn State University, explains the stylistic pattern behind these numbers: "A high betweenness centrality suggests you were more important in passing on traditions. Also, someone who created their own branch of music would score higher by this metric.""