5/21/20
TV Show, News: MSNBC Morning Joe. Bob Dylan and the Basement Tapes and Joe Biden and the Basement Campaign! About 2 min. in.
5/8/20
TV Show, News: NYMC Mayor De Blasio on the Corona Virus, "A quote I often refer to from Bob Dylan: "You don't need a weatherman to know which way the wind blows."" about 6 min. in.
2/20/20
Article: New York magazine This is not a love story. Opening paragraph about Jakob.
Kate Elizabeth Russell traces the beginning of her obsession with Lolita to an encounter with the musician Jakob Dylan. It was 1997, and the novelist was 13 years old, precocious and bored, living on an isolated lake some 15 miles east of Bangor, Maine. Dylan, then in his late 20s, was coming to town with his band, the Wallflowers, and he wanted to meet Stephen King, the local royalty. Russell's father happened to be a DJ for King's radio station, and he arranged a dinner. Russell and her cousin got to tag along. She remembers trembling through the meal, struggling to contain her excitement as she watched the charismatic front man tear apart a bread roll with his hands. Later, she read everything she could find about him. In a Rolling Stone profile, he declared his favorite book was Lolita. She couldn't check the book out from her local library — every copy had been lost or stolen — but she discovered the text on a rudimentary website and felt a thrill when she realized it was about a sexual relationship between a girl around her own age and a much older man. "I didn't know that was an option," she recalled thinking at the time.
9/9/19
Article: Footwearnews, Sam Edelman's Wild Ride: From Aspiring Actor to Footwear Design Legend. Has a picture of Bob Dylan in his office.
Article: The Coming Death of Just About Every Rock Legend.
Behold the killing fields that lie before us: Bob Dylan (78 years old); Paul McCartney (77); Paul Simon (77) and Art Garfunkel (77); Carole King (77); Brian Wilson (77); Mick Jagger (76) and Keith Richards (75); Joni Mitchell (75); Jimmy Page (75) and Robert Plant (71); Ray Davies (75); Roger Daltrey (75) and Pete Townshend (74); Roger Waters (75) and David Gilmour (73); Rod Stewart (74); Eric Clapton (74); Debbie Harry (74); Neil Young (73); Van Morrison (73); Bryan Ferry (73); Elton John (72); Don Henley (72); James Taylor (71); Jackson Browne (70); Billy Joel (70); and Bruce Springsteen (69, but turning 70 next month).

A few of these legends might manage to live into their 90s, despite all the … wear and tear to which they've subjected their bodies over the decades. But most of them will not.
7/15/19
Article, Interview: Jack White Rolling Stone interview.
You know Bob Dylan, who's about to open a new distillery and venue in Nashville. Has he ever said anything to you that's stuck with you?
All the time. He's been an incredible mentor to me, and a good friend, too. I'm lucky to even have one conversation with him. Everything else has been icing on the cake.

Is there a side to him people don't see?
He's very complicated. A lot of people who go through fame, even a small taste of it, are going through experiences that probably no human being should ever go through. I've walked into a room and felt like I'm intimidating people. You don't know what you're supposed to do. I think people like Dylan end up trying to avoid that stuff.

Have you two written a song together?
I cannot tell you that. I wish I could tell you, but I cannot. 
See Dylan News References from 2013. Ball and Biscuit missing audio.
7/12/19
Article: Village Voice: A Step-By-Step Walk Through 'Just Kids' and Patti Smith's New York
"THE BITTER END/THE OTHER END | 147 BLEECKER STREET
This 230-person capacity nightclub in the heart of Bleecker Street has gone under both names, but on June 26, 1975, as the Patti Smith Group played the second night of a five-night stand, it was known as the Other End. In the audience that night was none other than Bob Dylan, in town putting together his Rolling Thunder Revue and occasionally showing up at his old Village folk music haunts. The Patti Smith Group was on their best behavior that night with Bobby D in the audience, as Patti played the set to Dylan and the band otherwise turned out what all reviewers regarded as an exemplary performance.
The two would meet after the show, and the moment would be captured for posterity by Danny Fields, among others. The club is still there, and still features live music."
"WOLLMAN RINK | CENTRAL PARK
Patti went with Dylan sidekick/confidante Bob Neuwirth (who she met in the lobby of the Chelsea Hotel) to see Janis Joplin perform there in 1969, and would later play there with her band in 1978 and 1979. Wollman Rink has the distinction of being one of the last places Patti played in NYC before her 1979 "retirement" on August 11, 1979."
9/19/18
Article: Bringing It All Back Home to Washington Square Sept 29, 2018 – "a live concert in the shadow of the Arch in celebration of the legendary and influential music heritage of Greenwich Village."
9/18/18
Article, Review: RRStar movie review, Life Itself.
"The film is already hilarious and emotional wrenching even before Chapter Two, about 8-year-old Dylan (Kya Kruse), sets out on a twisty-turny road that looks at the close relationship between her and her loving grandfather Irwin (Mandy Patinkin). The young girl's first name figures prominently in the story as does the music of late-'90s Bob Dylan. And aspects of Chapter Two have direct correlations to Chapter One."
9/13/18
Article: NYTimes write up about Girl From the North Country play at Public Theater.
Plunder my song Book, Bob Dylan said. So I did posted 9.11.18
8/10/18
Article: Washington Post opinion piece by Andre Leon Talley, "The historic blackness of Tyler Mitchell and Beyoncé's Vogue cover" writing "When I saw Beyoncé on the cover of Vogue's September issue, a different excellent black woman came to mind. "The times, they are a-changin'," Nina Simone sang in 1969. The song was written by Bob Dylan, but no one sang it so well as Simone." Ending with "We have delivered ourselves into a new era, too, for the times, they are a-changin'."
6/22/18
Article, Review: Library Journal, DVD review of Gotta Serve Somebody: the Gospel Songs of Bob Dylan Documentary.
Don't totally agree with the last statement that this won't win over Dylan fans who deride this period! We love Dylan no matter and this documentary adds insights into how others perceive these songs as spiritual and connected to the universe!
Watched on AmazonPrime
6/11/18
Article: SummerStage Concert NYC, Aug 12
Hosted by Richard Barone: Music + Revolution: Greenwich Village in the 1960s. From his album Sorrows and Promises. Does a cover of Dylan's I'll Keep it With Mine.
6/1/18
Article, Interview, YouTube: Washington Post YouTube interview with Seth Meyers. He has a pic of Dylan on his office wall.
5/5/18
Article: Vanity Fair article about Getty kidnapping in 1973. In print article there is a picture of Dylan with among others Robert DeNiro, Sally Kirkland, Ronee Blakley and Gisela Getty at the Roxy in Hollywood, 1976. Similar to the pic below.
1/25/18
Article, Review, TV Show: The Ringer article on the 20th anniversary of the "Soy Bomb" at the 1998 Grammy's.
11/3/17
Article, Blog: UpRoxx blog. How To Make 'The Last Waltz' Part Of Your Annual Thanksgiving Celebration
"The guest list at this party is truly a mixed bag. There is a wise old man from Mississippi. There is a beautiful blonde poet from the Hollywood hills. There is a jive-talking hipster from New Orleans. There is a coked-up Canadian hippie. There is a portly, purple-suited Irishman who mistakenly believes that he knows karate. And then there's the Jewish rock star for Minnesota who can't decide if he really wants to be there."
Article, Opinion: VillageVoice article by Greil Marcus. Top 10 Real Life Rock
"2. Bob Dylan and Mavis Staples, Xcel Energy Center, St. Paul, Minnesota (October 25).
Overheard in Row 7: "Have you guys seen Bob Dylan before?" "No, but we never miss Mavis.""
"7. Joe Hagan, Sticky Fingers: The Life and Times of Jann Wenner and Rolling Stone Magazine(Knopf). That Hagan names as inspirations The Lives of John Lennon, Albert Goldman's attempt to destroy John Lennon, and Positively 4th Street, David Hadju's attempt to discredit Bob Dylan, means that his book is one more proof that a biography grounded in its author's contemptuous distaste for his or her subject is not a good idea. There's a huge amount of information here, but if what Hagan did with what I told him is remotely typical then it can't be trusted." See 11/3 post.
Article, Opinion, Review: Vulture article on Cate Blanchett roles in movies
"9. I'm Not There (2007)
Fine, it's just a Bob Dylan impression — but it's a really funny Bob Dylan impression. As one of the Dylan personas in Todd Haynes's unconventional biopic, Blanchett was handed a plum part: the singer-songwriter of the Don't Look Back era, a bratty, witty young man happy to conquer the planet while on tour in England. She's a total hoot in the role, channeling the artist's quicksilver wit, burnt-out weariness, and nervous patter. It's a perfect mimic, but there's also deep compassion in the performance. After all, Dylan is one of our greatest chameleons, shape-shifting from style to style over his long career, and so it figures that a master impressionist would understand that need to reinvent better than just about anyone."
11/1/17
University of Chicago Press, free monthly ebook.
He was one of the great blues guitarists and shaped the blues and folk revivals. Bob Dylan called him "one of the wizards of modern music." This influential, but underappreciated, musician is the subject of our 
free e-book
, 
Say No to the Devil: The Life and Musical Genius of Rev. Gary Davis
 by Ian Zack. Also see 
a list of the students 
of Rev. Gary Davis, with many links to his and their recordings.
"Bob Dylan, who rubbed elbows with Davis in Greenwich Village in the early sixties and recorded a number of his songs, considered him "one of the wizards of modern music." Intro.
10/3/17
Article, Review: New Yorker article on Joni Mitchell
"She got another chance at camaraderie in 1975, when she joined Bob Dylan's cocaine-dusted Rolling Thunder Revue, partly to get to know "Bobby," who acted, she said, like a "perverse little brat," forgoing actual conversations for Delphic, leering remarks. Dylan's childishness is the subject of "Talk to Me," a song on "Don Juan's Reckless Daughter":
We could talk about Martha
We could talk about landscapes
I'm not above gossip
But I'll sit on a secret where honor is at stake!
Or we could talk about power
About Jesus and Hitler and Howard Hughes
Or Charlie Chaplin's movies
Or Bergman's Nordic blues
Please just talk to me
Any old theme you choose
Just come and talk to me
Mr. Mystery, talk to me."
"The musicians she respects the most, Dylan and Leonard Cohen, are both notoriously limited singers, a fact that Mitchell reports frequently, and with evident joy."
"Her inspirations, she said, were the crooners of the pre-rock era, and Dylan, who could string lyrics together without the promise, or the threat, of an impending tune. (Dylan's harmonica passages sometimes act as the only punctuation for his long musical sentences.)"
"The principle of delay works also with Mitchell's rhymes, which are often the off-the-rack, Tin Pan Alley pairings that Dylan would adopt and, in songs like "Desolation Row," deconstruct into prophetic nonsense. "
9/30/17
Article, Review: Went to see Twyla Tharp dance at Joyce Theater. Dylan Love Songs. Excellent!
Reviews: NYTimes, Observer, Financial Times, Village Voice
9/19/17
Article, YouTube: See Billboard Harry Dean Stanton best singing moments, including with Dylan on Jewish Telethon.
"Thanks to the treasure trove that is YouTube, there is (somewhat fuzzy) footage of Bob Dylan performing alongside his son-in-law Peter Himmelman and Stanton at a 1989 Chabad telethon. The trio took on spirited versions of ​"Hava Nagila" and "Adelita," the latter on which Dylan appears to be playing the recorder while Stanton covers harmonica."
9/12/17
Article, Review: Book Forum review of Joni Mitchell biography, Reckless Daughter: A Portrait of Joni Mitchell, by David Yaffe.
"Even on her earliest, overly demure albums, she'd taken Bob Dylan's cue that pop songs could say anything (she often named "Positively Fourth Street" as her bat signal) and was using it to dismantle the pedestal she was placed on: The ingenue was gazing back and seeing through her watchers, keeping charts of power plays in a fine calligraphic hand. The girl all the pop songs were about was stepping up to tell them what they got wrong."
"In 1971, Blue (which includes "A Case of You," a song about Cohen, as it happens) kicked off a six- or seven-album streak that stands beside Stevie Wonder's of the same time or Dylan's mid-'60s run."
"While shelves buckle with Beatles and Dylan studies, and Young and Cohen have gotten solid book-length treatments, the few books on Mitchell have been limited, either too hagiographic or subsuming her under second-wave feminism or California lifestyle-ism."
"One problem for writers may be that unlike the work of Dylan or the Beatles, which was full of disguise and mystique and offered critics a surfeit to speculate about, Mitchell's art was staked on a radical honesty, no matter how enhanced by metaphor."
9/7/17
Article, Review: HHHappy article on Patti Smith
"For Smith, before there was rock 'n' roll there was poetry and a intense love of literature. As she puts it, she got "sidetracked" by music, and wandered down a path through which she could fuse her love of Rimbaud and the Beats with her adoration for Bob Dylan, Keith Richards and Jim Morrison."
8/30/17
Article, News: The Sixth Borough, article in City Journal.
"Not long after Brackman arrived, his friend Rudy Wurlitzer followed. Wurlitzer, a novelist (The Drop Edge of Yonder, Nog) and scriptwriter (the cult classic Two Lane Blacktop, Bernardo Bertolucci's Little Buddha, Sam Peckinpah's Pat Garrett & Billy the Kid), had pals like Philip Glass, Bob Dylan (who played a part in Pat Garrett), Patti Smith, and other postmodern moderns. When friends visited, they spread the word about the interesting town."
8/23/17
Article, Opinion: Pitchfork article on 200 of the best albums of the 1960s.
#55 Freewheelin' Bob Dylan, #38 Bringing it all Back Home, #14 Highway '61 Revisited, #6 Blonde on Blonde
8/6/17
Article, Interview: Ultimate Classic Rock magazine. Dylan and Gene Simmons collaboration.
"The track in question is probably "Waiting for the Morning Light," which appeared on Simmons's 2004 album, Asshole, but was recorded several years earlier. "Bob came up with the chords, most of them, and then I took it and wrote lyrics, melody, the rest of it," Simmons told Billboard in 2003.
Read More: Tommy Thayer Says Gene Simmons 'Was Like a Kid' Working With Bob Dylan | http://ultimateclassicrock.com/tommy-thayer-says-gene-simmons-was-like-a-kid-working-with-bob-dylan/?trackback=fbshare_top_flat_3&trackback=tsmclip
6/19/17
Article, Podcast: Thrive Global podcast with Glennon Doyle Melton. A caricature of Bob behind her couch.
6/14/17
Article: The Journal News article on Dylan's Harlem apartment.
6/6/17
Article, Opinion: BuzzFeed 23 Things You Forgot You Used To Do 10 Years Ago. #22 Downloading a bunch of Starbucks "Song of the Day" songs on iTunes and never listening to them (but hey, they were free). Showing a picture of the Dylan Starbucks Jokerman Song of the Day card. I think I still have one or two.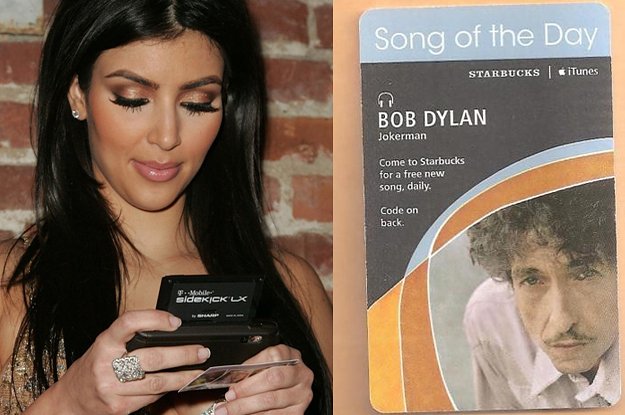 2/17/17
Article: Gothamist. Article on the History of NYC Protest Songs.
7/28/16
Article, Interview: Harper's Bazaar Interview with Kayne West and Kim K. Interview asks what's his favorite song of all time? "All Along the Watchtower. The Jimi Hendrix cover."
Article, Interview: Literary Hub — Camille Paglia on Patti Smith's Horses photo.
"In Mapplethorpe's half-transvestite picture, she invokes her primary influences, from Charles Baudelaire and Frank Sinatra to Bob Dylan and Keith Richards, the tormented genius of the Rolling Stones who was her idol and mine."
Article: Washington Post article on Second Story Books.
"The longtime owner of D.C.'s iconic Second Story Books has amassed a large collection of items such as Cary Grant's suitcase, original recordings of Bob Dylan, Civil War photos, Asian masks … and, yes, rare books."
Article, Interview: NYMag…The Strategist. Linda Rodin has a pic of Dylan in her kitchen.
5/25/16
Article, Review: Richard Farina: Lost genius who bridged the gap between beats and hippies, The Guardian.
2/19/16
Article, Review: Jerry Seinfeld Beacon Theater review, from Vulture, comments on Steve Martin appearance. 2016.  "Watching Steve Martin tell that joke was like if, in the middle of a modern-day Bob Dylan set of gurgles and growls, he brought out a time machine, turned the dial to 1965, and had young Bob Dylan come out to sing "It's All Over Now, Baby Blue."